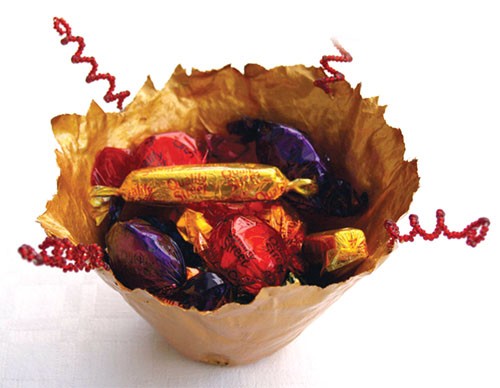 Preperation
| | | |
| --- | --- | --- |
| | | |
| Step 1Choose a bowl you like the shape of and cover the inside with cling film. | Step 2Mix 1 tbsp of PVA glue with 6 tbsp of water. | Step 3Rip a few pages of newspaper into small pieces. Don't use scissors as you need the rough edges. |
Making Your Bowl
Step 1 Dip your pieces of ripped newspaper into the glue/water mix and then begin covering the inside of the bowl. When you are doing the edges make sure the whole piece is covered even though it is sticking over the edge. You need to put 5 layers of paper on the bowl.
Step 2 Leave to dry. You can speed up the process by putting it on the radiator or in an airing cupboard if it is safe to do so. When it is dry remove from the bowl and peel off the cling film.
Step 3 Now it is time to decorate your bowl. Acrylic paint is the best to use as it covers newspaper print very well and you can get this from a craft supplies store or the hobby section of a DIY store. Tip – light colours will need a few layers and adding a coat of clear varnish when it dries can make it a bit sturdier.
Step 4 Feeling adventurous? Then why not add a few decorative touches? Simply thread a few beads onto a piece of wire and then twist it around a paintbrush to make a spiral. To secure into place simply tape the bottom bit of wire to the inside of the bowl and then secure it by putting an extra couple of layers of papier mache over it.